Get to Know
About Breedology
We are Breedology Nutrition, and we're dedicated to developing supplements specifically for the dachshund breed. Breedology Dachshund Advanced Care targets five key areas of dachshund's health: digestion, skin & coat, joints & cartilage, immunity, and heart & kidney function.
Our tailor-made products are created using the best quality natural ingredients – sourced from all around the world. Our goal is simple – to help support your dachshund's wellbeing in the best possible way!
Note From our Founder
Hi, I am Maria, a founder of Breedology. My journey to dachshund wellness started when my dachshund Gudzon was diagnosed with stage 1 of IVDD. When he was put on pain medications combined with strict cage rest, I became determined to find a natural, holistic way to help him recover from this debilitating condition.
While searching for experts in the field, I came across a veterinary surgeon specializing in integrated veterinary medicine, including herbal medicine, acupuncture & homoeopathy. He helped to discover certain powerful herbs and adaptogens, which, coupled with specific cartilage-building components, helped my dog to make a remarkable recovery. It restored his cartilage strength, immune system, and energy levels and helped with gut health.
Although there is no evidence that we can prevent intervertebral disc disease in dogs completely, we can minimize the chance of IVDD occurrence by maintaining good healthy joints & cartilage through optimal care and supplementation.
I was inspired to start Breedology to share these incredible ingredients with you. Working with veterinarians & leading breed experts, we've created our formulation to create powerful products to help many more dachshunds to live healthier, happier lives.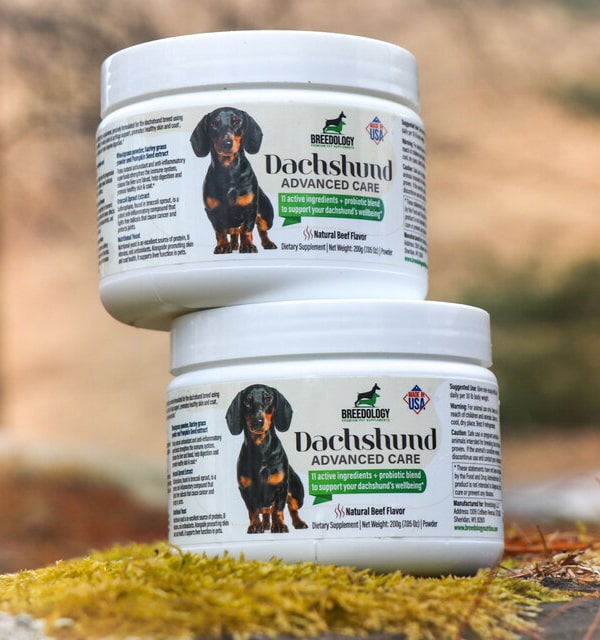 Our Ingredients Philosophy
Our philosophy is simple: to make natural nutritional supplements for specific breeds, using high-grade and healthy ingredients that are safe and effective to use. Our products are manufactured in the USA, in an FDA registered facility, using high-quality ingredients.
We always prioritise natural origins and source organic where possible – making all products with love and not with artificial flavours, colours, or preservatives. Each component must have a specific purpose in the product, so when developing a new supplement, we research which ingredients would help best with which problems. Testing only begins once the perfect formula has been settled on..
Quality
First
Since we know that high grade components are more effective, we don't cut back on ingredients.
Natural Over
Synthetic
We always use natural ingredients when possible, even if costs us a bit more.
High Absorption
And Efficacy
We only use the amounts of ingredients that are actually effective.
Made In
The USA
We make all of our products in the FDA registered facility.