Dachshund Advanced Care
Regular price
Sale price
$34.00 USD
Unit price
per
Sale
Sold out
An advanced natural dietary dog supplement, precisely formulated for chondrodystrophic dog breeds, such as dachshunds. 
A blend of 11 active premium-grade natural & organic ingredients and probiotics developed to provide joints & cartilage support, promote healthy skin and shiny coat, boost the immune system, and improve digestion.
Feeding Guide

Give one scoop with food daily per 30 lb bodyweight, divided by two servings for the best results.

For standard dachshunds: 1 scoop daily.
For small standard dachshunds: 2/3 scoop daily.
For miniature dachshunds: 1/2 scoop daily.

Simply mix the powder into wet dog food or sprinkle over kibble.

For picky eaters, mix the powder with a small amount of peanut butter and let your pooch lick it off the spoon!
Important Information

For canine use only.

For puppies under 20 weeks, pregnant dogs or dogs on medication, please seek veterinary advice before use.

Not recommended for puppies under 12 weeks old.

Keep out of reach of children and animals.

Store in a cool dry place.
Share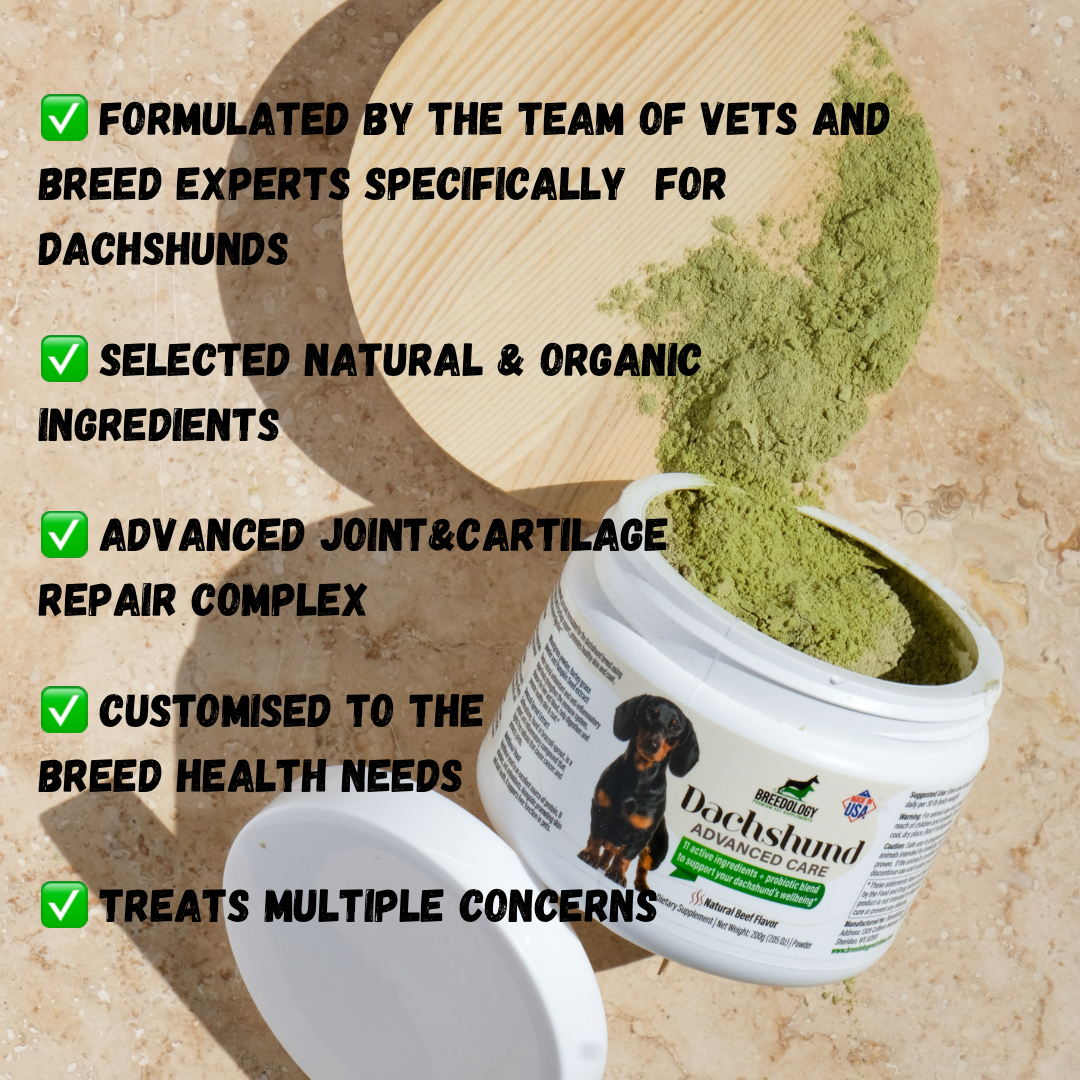 Benefits
Supports
Joints And Cartilage
Our powerful formula is created specifically for chondrodystrophic breeds like dachshunds. The ingredients stimulate cartilage repair, lubricate joints, relieve joint stiffness and fight arthritis.
Boosts
Immune System And Energy Levels
A balanced blend of natural superfoods is designed to boost the immune system, assist detoxification, help neutralize free radicals, replenish vital nutrients and naturally and support stamina and strength.
Improves
Digestion
Our all-natural formula is beneficial to a dog's digestive system by supporting effective nutrient absorption. We also added a probiotic blend of 5 different strains of good bacteria to improve your dog's microbiome.
Promotes
Shiny Coat & Healthy Skin
The pumpkin seed oil extract and hyaluronic acid in this formula support brain and joints function, as well as maintain optimal skin and coat conditioning.
Improves
Kidney Circulation, Normalizes Heart Function
A premium blend of vitamins, minerals, amino acids and antioxidants come together to help heart and brain function, as well as detoxify the body organs.
11 active ingredients + probiotic blend
This high-strength natural formula is formulated by veterinarians and breed experts specifically for the dachshund breed to support your dachshund's health all year round.
Pumpkin Seed Extract
Pumpkin seed is a powerful superfood containing many minerals and vitamins: selenium, chlorine, iron, fluorine, potassium, calcium, copper, iodine, magnesium, and zinc, as well as the vitamins A, B, C, and E. It supports the immune system, helps digestion, and promotes urinary tract health.
Wheatgrass Powder
Nutrient-dense superfood containing a large variety of vitamins, amino acids, chlorophyll, fiber, and enzymes. It straightens the immune system, prevents heart disease, cleanses the liver and blood, promotes digestion, and prevents constipation.
Chondroitin, Glucosamine and Hyaluronic Acid
These powerful ingredients help to maintain healthy joints and cartilage in dogs. They slow the progression of arthritis, stimulate cartilage repair, lubricate joints, and relieve joint stiffness.
Organic Astragalus Powder
This medicinal herb has antibacterial, anti-tumor, anti-viral, and anti-inflammatory properties. It improves kidney circulation, normalizes heart function, strengthens digestion, increases metabolic activity, and enhances DNA synthesis in the liver of pets.
Organic Turmeric Root Powder
Curcumin is the active ingredient in turmeric and has anti-inflammatory and anti-tumor effects. It provides pain relief for osteoarthritis, prevents cancer, and helps with skin allergies.
Barley Grass Powder
Natural antioxidant and anti-inflammatory superfood, loaded with vitamins, active enzymes, amino acids, essential trace minerals, chlorophyll, and bioflavonoids. It boosts immunity and energy levels, promotes healthy skin and coat, reduces bad breath, and helps digestion.
Broccoli Sprout Powder
Apart from many other beneficial nutrients, broccoli sprout contains Sulforaphane - a potent anti-inflammatory compound that fights free radicals and prevents cancer, protects joints, and prevents brain disorders.
Nutritional Yeast
Nutritional yeast is a great source of protein, B vitamins (B1, B2, B3, B5, B6, B7, and B9), and antioxidants. It promotes coat & skin health and liver function in pets.
Frequently Asked Questions