Welcome To The World's Only Nutrition Brand Specifically For Dachshunds
All essential daily nutrients for your dachshund in one scoop.
COMMITTED TO THE HIGHEST MANUFACTURING STANDARDS:
The Breed's Health Needs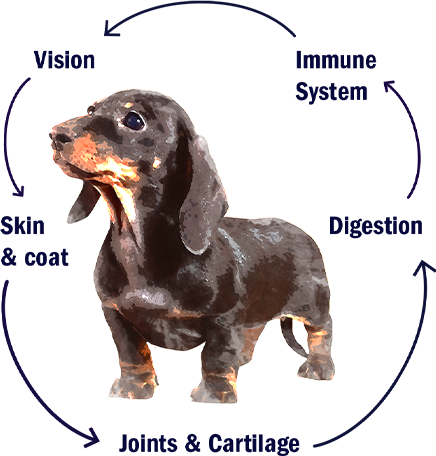 Joints & Cartilage
Dachshunds need our undivided attention when it comes to their spine and cartilage health. They're chondrodystrophic dogs, meaning they are, by far, the breed most likely to be affected by IVDD. In fact, around 25% of our little weiner friends will experience spinal issues in their lifetime.
We've developed a powerful formula that includes Chondroitin, Glucosamine and Hyaluronic Acid; ingredients that work in perfect synergy to provide advanced joint and cartilage support – helping to well and truly up the pup!
Vision
Age, disease, and hereditary conditions result in dachshunds suffering from visual impairment more than in most other breeds.
Luckily, nature has been kind enough to provide Broccoli Sprout, which is perfect for maintaining healthy vision... and it's a key ingredient in our supplement. The antioxidant Sulforaphane in broccoli sprout works as kind of natural sunglasses, protecting the eye from damage caused by the sun's ultraviolet light. It also contains beta-carotene, which also boosts eye health.
Skin & Coat
Dachshunds often face a wide variety of different skin problems, including dry skin, flea allergy dermatitis, and colour dilution alopecia.
That's why we added Pumpkin Seed Extract to our formula, a great way to support your pup's skin and coat through the delightful properties of omega fatty acids and zinc.
Digestion
Dachshunds are notorious for having dodgy tummies and occasionally suffer from digestive problems.
But never fear, because we've taken care of that by adding Barley Grass and Wheatgrass to our formula. They're perfect for supporting digestion, freshening breath, and giving a hearty kick-up to energy levels.
Immune System
Any active dachshund needs a bit of help in supporting its immune system.
Our supplements contain two powerful immune-boosting superfoods: Broccoli Sprout and Turmeric. The Sulforaphane and Curcumin they contain are known to activate enzymes that defend your dog's cells from carcinogens and inflammatory toxins.
Made in America!

We proudly make all our supplements right here in America! With ethically sourced ingredients and manufacturing that complies with FDA product standards.

Effective Amounts

We use ingredients in a concentration that is actually effective. Just compare us to anyone else in the market! We use ingredients in higher amounts than other commercial brands.

Quality First

Since our friends and family use Breedology supplements for our dachshunds, we don't cut back on the ingredients. We only use natural, ethically sourced & organic ingredients.

Amazing Pricing

We don't just produce the best supplement for dachshunds; we make it affordable! Over two months supply of essential nutrients in a single jar for as little as 50 cents a day; how amazing is that!
Why Dachshunds Love Breedology
..Apart from a yummy natural taste!
Maintains Healthy Cartilage & Joints
Boosts Immune System
Promotes Healthy Skin & Shiny Coat
Supports Kidney & Heart Function
Improves Digestion
Maintains Healthy vision
TARGETED NUTRITION
11 Natural & Organic Ingredients that target all five of dachshunds' main problem health areas.
About
Breedology
It all started with the love of a dachshund...
It's no secret how much we love dogs. Here at Breedology, all of us are pet parents ( our founder owns two sausage dogs, too! ), and we know how much the right supplements can make a difference in a dachshund's life.
That's why we're so passionate about making a tailor-made supplement for a dachshund breed, targeting problem health areas and giving dachshunds the vital boost that they need!
Subscription Benefits
Save 20% on all orders.
Avoid the Hassle of Reordering.
Cancel or Pause Your Subscription Anytime.
Customize Your Subscription to Your Dachshund's Size.
Testimonials
Marianna |
Lilly's owner
"I am really pleased that I can give my doxie all the vital nutrients she needs just in one scoop daily! It is so easy to sprinkle it over food, and she loves the flavor!"
Thomas |
Pickle's owner
My boy Pickle loves these! Breedology supplements give my dog the health boost he needs and keep my mind at ease. So pleased I found this brand!
Cheryl |
Juno's onwer
I've tried a few vitamins and supplements for my dachshund, and Breedology supplements are the best so far. They work great for Juno's skin & coat and help digestion.
Emma |
Finn's owner
This supplement is fantastic! It helped a lot with Finn's joint stiffness. I love that it contains some superb anti-inflammatory ingredients; it helped reduce his joint pain.
Made In
The USA
We make all of our products in the FDA-approved facility.
High Potency
Formula
We only use the amounts of ingredients that are actually effective.
Zero
Nasties
Our products contain no artificial colors, flavors, or preservatives.
100% Natural
Ingredients
We always prioritise ingredients of natural origins and source organic where possible.